In the fast-paced world of digital marketing, staying on top of the latest trends and updates is crucial for maintaining a competitive edge. One such seismic shift occurred in 2023 when Google introduced a game-changing alteration to its search engine layout. The traditional pagination system, denoted by "page 1," "page 2," and so forth, was replaced by an ever-scrolling interface. This transformation has far-reaching implications for website rankings and the distribution of traffic. In this blog, we'll delve into the nuances of this update and explore how it affects both established and emerging players in the online arena.
The Dawn of Ever-Scrolling: Rethinking Search Results
With the advent of ever-scrolling search results, Google has taken a significant step towards providing a more seamless and user-friendly experience. Instead of navigating through pages, users can now endlessly scroll through results, revealing an expanding list of relevant content.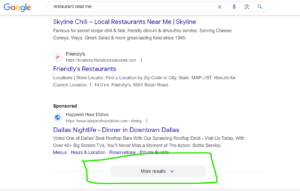 A New Era of Visibility: Empowering Lower-Ranked Websites
One of the most noteworthy outcomes of this update is the leveling of the playing field. Previously, the lion's share of traffic was typically captured by websites occupying the top slots on page one. With the removal of the pagination system, lower-ranked websites now have a greater chance of being seen.
This shift is a game-changer for emerging businesses and smaller players in the digital space. By optimizing their content and focusing on quality, even websites that don't hold the top spots can now vie for user attention. This democratization of visibility means that businesses of all sizes have a real shot at reaching their target audience.
The Struggle for Page One Supremacy: A New Paradigm
Conversely, for websites that have long held positions on page one, the landscape has become more competitive. With ever-scrolling results, the traditional "page one advantage" is somewhat diluted. While these established players still enjoy a significant share of traffic, there's now a possibility of losing some clicks to lower-ranked sites.
This paradigm shift demands a renewed emphasis on maintaining high-quality content and user engagement. Websites that have held top positions must adapt to the changing dynamics and continue to provide exceptional value to users.
The Power of User Intent: A Focus on Relevance
As the ever-scrolling interface encourages users to explore beyond the initial set of results, understanding user intent becomes paramount. It's no longer sufficient to merely secure a top spot; websites must ensure that their content aligns closely with what users are seeking.
This places a premium on comprehensive keyword research, user-friendly site architecture, and engaging, informative content. By catering to the specific needs and interests of their target audience, websites can maximize their visibility and capture the attention of users at various stages of their journey.
Adapting to the Ever-Scrolling Future
Google's 2023 update marks a significant milestone in the evolution of search engine optimization. The transition from pagination to ever-scrolling results signals a shift towards a more dynamic, user-centric experience.
For businesses, this presents both opportunities and challenges. Embracing this change requires a commitment to quality, relevance, and a deep understanding of user intent. By doing so, websites can not only weather the storm of this update but also thrive in the ever-scrolling future of online visibility.